Embodied leadership training:
Duration: Two to six hours, depending on participants needs
Group size: (minimum) 6 to (maximum) 25 participants.
The six hour seminar can either be booked as a one day event or as four blocks of 90 minutes each (e.g. for weekly evening workshops, etc.).
For teambuilding purposes, the six hour seminar has proven to be the most beneficial format.
Embodied stress reduction training:
Duration: Two hours
Group size: (minimum) 6 to (maximum) 25 participants.
All seminars can be held in German or English language.
In-house seminars
Leadership training seminars or embodied stress reduction training can be held in any room with suitable size. I will be happy to come to your premises for congresses, weekly workshops, training weeks, or similar.
Should your company not have access to a room of adequate size, but you would still prefer the seminar to be held close to your premises, then a seminar venue can be arranged for you.
.
Seminars at the aikido dojo Duisburg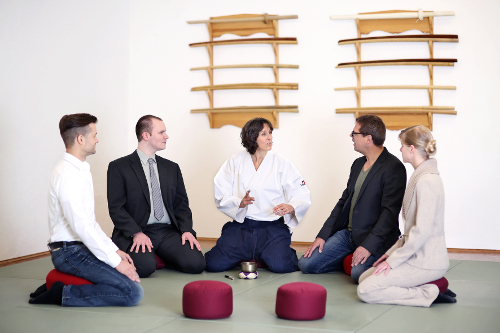 In addition to seminars held in-house at your location, they can be hosted as a daily event in our aikido dojo in Duisburg, Germany. Our dojo (Japanese for "the place where the way is practised") is not merely a training room for martial arts, but a place of concentration and meditation.
The atmosphere in the dojo helps seminar participants to step out of their everyday lives and their associated stresses and to attain a calmer state of mind.
Employees and co-workers can meet each other there in a new and unusual setting. This strengthens teamwork and communication between the participants.
The floor of the training hall is covered with judo mats. This permits additional exercise to be carried out on the floor, which deepens the understanding of the seminar topics covered.
Get in touch with me, to get more information or to arrange an appointment. I am looking forward to taking your call or your e-mail.